Posted:
July 7th, 2013 |
Author:
sabre1041
|
Filed under:
Technology
|
Tags:
JBoss
,
PicketLink
,
SPNEGO
|
16 Comments »
Client (Web Browser) Configuration
The browser is the final component which will need to be configured to support integrated authentication. This configuration is necessary since browsers require the specification of a trust relationship to the application server before initiating the negotiation process as mentioned previously. The steps required are unique to each browser and several of the most popular browsers will be covered.
Internet Explorer
Internet Explorer will only perform SPNEGO authentication against sites which are configured in the Local Intranet zone. The following steps will depict how to add a site to this configuration.
The security configuration for the various security zones are found in the Internet Options panel. If you are using Windows Vista or Windows 7, Click Start and type in Intranet Options. Otherwise, this console can be accessed from within Internet Explorer by clicking on Tools and then Internet Options.
Click on the Security tab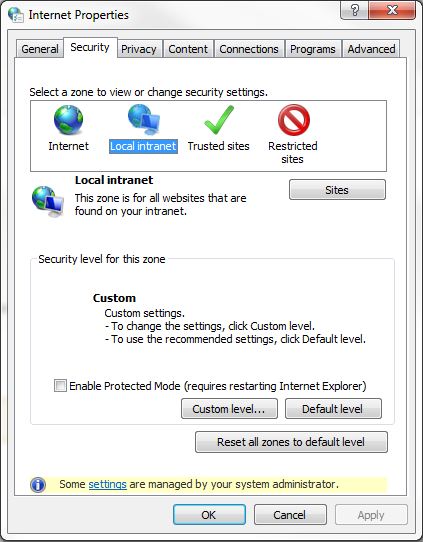 Click on Local Intranet and then Sites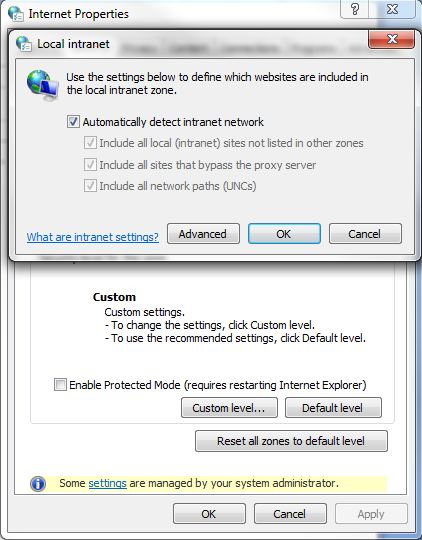 Click on Advanced
Enter the fully qualified domain name of the application server in the text field and click Add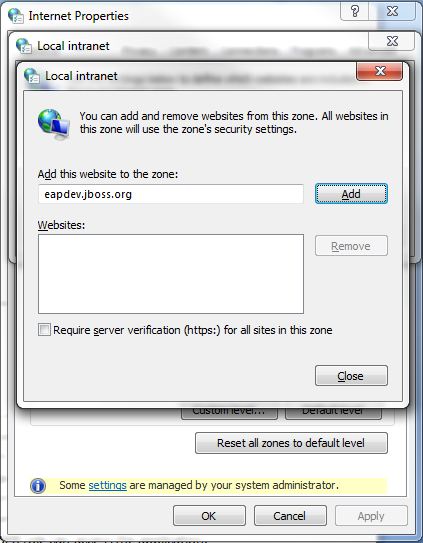 Click OK through the various windows and restart Internet Explorer if it was open to apply the settings.
Firefox
Many of the basic Firefox options are accessible through the Options/Preferences console. However, as many power users are aware, there is a section of Firefox which allows for the configuration of the browser internals. To access this section, launch Firefox and enter about:config in the location bar. Click the "I'll be careful, I promise" button to access the configurations.
On the search bar, type in "network.negotiate". This will filter the list of available options and leave only a few present. Locate and double click the "network.negotiate-auth.trusted-uris" option.

Enter the URL of the site and click OK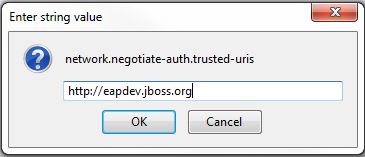 Multiple sites can be entered by separating them with a comma. You may need to restart your browser for the changes to take effect.
With the JBoss server, web application and web browser properly configured, Integrated Windows Authentication is fully configured.
---